Anna Galland
Executive Director of MoveOn.org
Anna Galland is Executive Director of MoveOn.org Civic Action, a community of more than 8 million progressive Americans using innovative technology to lead, participate in, and win bold campaigns for social change.
Anna became a MoveOn member in 2002 and joined the MoveOn staff in 2007. She subsequently led the launch of SignOn.org, which has become MoveOn Petitions, a tool that gives individual MoveOn members the power to launch and run their own MoveOn-style campaigns. She also developed MoveOn's national network of nearly 200 local volunteer Councils, and ran advocacy and electoral efforts, including leading roles in MoveOn's election programs in 2008 and 2012.
Before coming to MoveOn, Anna started and directed civic engagement and community organizing projects with the Oregon Bus Project and the American Friends Service Committee, and served as a trainer for Wellstone Action.
Anna is committed to organizing for a more equitable and sustainable future. She is dedicated to unleashing the tremendous untapped people power that resides in the progressive movement, and believes that if more people are encouraged and empowered to step up as grassroots leaders, they can become a game-changing force that reshapes our nation's politics. Anna is inspired every day by the leadership shown by MoveOn members who fight for and win campaigns for change in their communities, in state capitals, and in nationwide debates.
Organization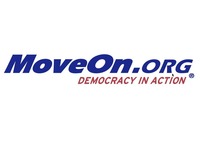 MoveOn.org
8 million progressives fighting for change.