Episode Unknown
Win Report: Rick Perry said what?!
Victories and defeats in the most important progressive fights of the week.
A stand-alone Win Report! The latest victories and defeats in progressive fights throughout the country. Featuring, but not limited to, the following stories: Gov. Rick Perry saying the darnedest thing about homosexuality, President Barack Obama using his mighty executive-order-signing pen not once, not twice, but thrice; and a beautiful example of the Affordable Care Act acting to make care, well, affordable.
Stay tuned for a great episode with Lawrence Lessig on money, politics, and Aaron Swartz—coming next week.
Originally posted on June 20, 2014
Featuring
Powered by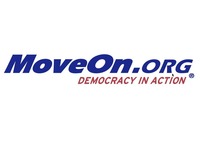 MoveOn.org
8 million progressives fighting for change.
Show Notes
LOSS: Gov. Rick Perry compares
homosexuality to... alcoholism
. Sometimes we like to count our blessings here at The Good Fight, and the fact that Perry isn't president is one of them. Sorry you have to deal with him, Texas.
LOSS: Louisiana Gov. Bobby Jindal
doesn't care about women's health
. He just signed a bill that is all but guaranteed to close four of five abortion clinics in the state, including the only ones in New Orleans and Baton Rouge.
WIN: Wisconsin's state utilities are
two years ahead
in meeting its renewable standards.
WIN/LOSS/WINPORTUNITY: Federal court strikes down Wisconsin's ban on same-sex marriage. 555 couples got married just before another judge issued a stay,
leaving them in limbo
. Wisconsin Democrats, including U.S. Sen. Tammy Baldwin, have written a letter to Attorney General Eric Holder to honor those marriages.
WIN: More wins for the minimum wage fight!
Massachusetts set to increase minimum wage to $11 by 2017
— the highest statewide minimum wage in the nation!