Episode #5
Gillibrand. Rape in the military. NSA World of Warcraft.
A heartbreaking, and heart-fixing, podcast about a fight we've got to win.
Senator Kirsten Gillibrand brings us inside her fight against military sexual assault. She's joined on the show by Navy veteran Trina McDonald, whose story will break your heart—and then put it back together stronger.
If you saw Trina in the Oscar-nominated documentary The Invisible War, you've probably already realized it: you can't miss this episode. And if you've been reading about Senator Gillibrand and her battle to change the military justice system, this is where you'll find out why she'll never give up.
Plus, before that story, it's everything you love about The Good Fight: a mind-bending descent into our secret underground studio, a glimpse of the NSA's World of Warcraft video game infiltration operation, and a classic Win Report with Garlin Gilchrist II of MoveOn.org. Plus an update on the fast food worker uprising. Tune in, fight back, and spread the word: episode 5 is the best Good Fight yet.
Originally posted on December 12, 2013
Featuring
Powered by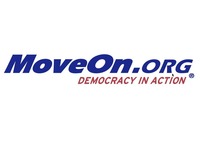 MoveOn.org
8 million progressives fighting for change.
Show Notes
SHOW NOTES
Epic story: military sexual assault
The Win Report:
We'll always mourn Nelson Mandela.
Guns: Cerberus moves to allow investors to exit Freedom Group, the makers of the Bushmaster rifle used in the Newtown, Connecticut school shooting rampage.
Progressives, led by the Progressive Change Campaign Committee, pushed back hard on Third Way's attack on Elizabeth Warren and their claim that economic populism was "disastrous" for Democrats. As a growing team of progressive groups joined the fray, Third Way's Democratic co-chairs started distancing themselves from the attack. The New York Times called the campaign's success "the latest indication that the liberal wing of the Democratic Party is ascendant."
ALEC on the run after sponsors back out: The conservative, corporate-funded American Legislative Exchange Council has a giant hold in its budget, a Guardian exposé reveals, thanks to the pressure campaign on its donors following ALEC's support for voter suppression and Stand Your Ground laws.
MUSIC, SOUND EFFECTS, & CLIP CREDITS
Intro:
Table of Contents & Final Credits:
The Good Fight Theme - an original composition for The Good Fight by Fritz Myers
Fast Food Strike Update:
Win Report:
NSA Leak:
Epic Story:
Locked Up - Royalty Free Kings
Dancing Light - Royalty Free Kings
Mensa - Podington Bear
Dust Cloud - Royalty Free Kings
Empty Feeling - Royalty Free Kings
First Steps - Royalty Free Kings
Time to Run - Dexter Britain
Twilight - Royalty Free Kings
Forlorn - Royalty Free Kings
Woodland Creatures - Kevin Bryce