Episode #39
ALEC: Match.com for evil
Meet ALEC — and Nick Rathod, the guy fighting back
For decades, corporations have found Republicans ready to do their bidding thanks to a shadowy outfit known as ALEC. But Nick Rathod, a preacher's son, has a plan to fight back.
Originally posted on December 17, 2014
Featuring
Nick Rathod
Executive Director at the State Innovation Exchange
Powered by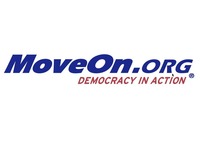 MoveOn.org
8 million progressives fighting for change.
Show Notes
Music Credits

The Plastic Jazz Orchestra - Roulette
Royalty Free Kings - Cloak & Dagger
Northbound - Forward
Plusplus - Windings
Zach Young - original music
Plusplus - The Rolling Hills of England
Thomas William vs Scissor Lock - Cadillic
Cold Mailman - Pull Yourself Together and Fall in Love with Me
Related Episodes: ALEC