Episode #33
Inside the ginormous, huge-tastic climate march
Hear the People's Climate March make history.
They promised the biggest climate march in world history. But when the big morning arrived, the Weather app showed a thundercloud.
Hear what happened next—and feel the (renewable) energy of a giant, urgent movement hitting the streets together for the first time—as The Good Fight takes you inside the most ambitious grassroots mobilization of the year.
Originally posted on September 26, 2014
Featuring
350.org
A global movement fighting climate change
Avaaz
A global civic movement with more than 38 million members in every nation.
Powered by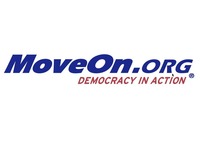 MoveOn.org
8 million progressives fighting for change.
Show Notes
SHOW NOTES
Here's the official People's Climate March website. Check out the march's lineup here, and the route here.
350.org co-founder Bill McKibben talks to The New Yorker before the largest environmental march in human history.
Here's a nifty Storify, telling the blow-by-blow of the march in New York City, and the rest of the world.

Glowing compliments, courtesy of The New York Times: "Coursing through Midtown, from Columbus Circle to Times Square and the Far West Side, the People's Climate March was a spectacle even for a city known for doing things big[.]"