Episode #2
Escaping the fever swamp. Obamacare Defense League. DREAMers.
A podcast episode about the fights that matter. Spread the word.
As seen by denizens of the far-right fever swamps of American politics, Obamacare is a terrifying nightmare—a nightmare Ben accidentally discovers on his way to the office. After a swashbuckling escape, he's joined by MoveOn's Garlin for the second, world-traversing Win Report; and then, for our epic story of the week, immigrant rights champion Prerna Lal. Prerna tells her own story, and takes us inside the movement that aimed for the DREAM Act... and won something called DACA that changed millions of lives.
Plus, the debut of the Obamacare Defense League—a league composed of Good Fight listeners whose voices make an unforgettable case for not going back to the bad old days of American health insurance.
Originally posted on November 22, 2013
Featuring
Powered by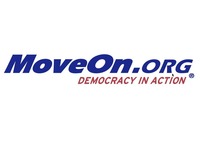 MoveOn.org
8 million progressives fighting for change.
Show Notes
CALL TO ACTION
If you believe that the entirety of health care reform can't be undone because of some glitches in the website, you're among friends. Although Obamacare isn't a perfect program, it
is
an enormous step forward for this country and its very existence is a testament to decades and decades of struggle.
Last week
, we asked you to call in to share your Obamacare success story with us. Dozens of you responded
: Calls came from Arizona to Florida, Colorado to Maryland, and everywhere in between. We heard stories about how health care reform has changed people's lives
and
their communities. We heard from parents and students, skiers and survivors, people who are ill and people who are healthy.

These voices -- your voices -- are needed now more than ever.
The Affordable Care Act is under attack not just from biased media reporting and partisan politics, but also from ignorance. Health care is a deeply personal issue, and we tend to only share health care stories when there's a disaster or endearing calamity involved. But now's the time to boast, to share stories of success and survival -- as many of you did after our last show.
To aid in this fight, we created the
Obamacare Defense League,
a storytelling platform for folks to share their Obamacare stories, and we turned some of our first-round calls into a radio ad that you can hear on this week's
episode
. We hope to do more with these stories, and encourage you to submit your own. To join the Obamacare Defense League, call
The Good Fight Hotline
at
785-20-VOICE
(785-208-6423) and leave us a voicemail with your health care story. (If you're more the writing type, check out our partner MoveOn's parallel campaign
here
.)
It only takes a minute to take a stand.
CREDITS
MUSIC


The Good Fight Theme (before Heather Booth interview and during closing thank-yous) - an original composition for The Good Fight by Fritz Myers
Villain Vengeance - Free Stock Music
The War is Not Lost - Free Stock Music
(Super Hero) Suspense Music - Teknoaxe
Beacon of Hope - Royalty Free Kings
Entering the Lair - Royalty Free Kings
Appassionata - Royalty Free Kings
Epic Star Spangled Banner - Royalty Free Kings
Coastal Flight - Royalty Free Kings
Sports TV Theme - Royalty Free Kings

SOUND EFFECTS