Episode #12
War with Iran, canceled until further notice
A new law would've put us on a path to war. Here's how we beat it.
The Iran sanctions bill was the kind of measure that usually passes Congress unanimously. And, as always, dozens of Senators signed on right away—even though the law would've destroyed the most promising US-Iran peace negotiations in a generation, and put us on a road to war.
But then, suddenly, the bill collapsed.
What happened? On this episode of The Good Fight, we take you behind the scenes of the rapid-response, highly strategic progressive mobilization that pulled Democratic Senators away, at the last second, from an incredibly dangerous vote. It's the story of a movement that learned a key lesson from Iraq in 2003: the best way to stop a needless war is before it begins. And it's the win that keeps hope alive for the agreement that the US, Iran, and other countries are negotiating even now, a deal that could offer a transformative breakthrough for peace after decades of hostility.
All that, plus the Win Report... and an encounter with an overenthusiastic vacuum cleaner.
Originally posted on February 19, 2014
Featuring
Powered by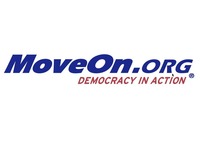 MoveOn.org
8 million progressives fighting for change.
Show Notes
Senator Chris Murphy's petition supporting diplomacy is online. Sign it!

Early on in the sanctions story we mention Jeremy Beinart's piece for the Daily Beast, entitled Where's the Anti-War Left on Iran?. It was posted on December 23rd, Four days after the sanctions bill appeared in congress.
The National Journal article we mentioned at the very end about Obama's victory is entitled How Obama Won the War on Iran Sanctions. It was written by Stacey Kaper and posted on February 2nd, shortly before Senator Menendez backed off of calling for a vote.
The Buzzfeed story we mentioned is called Senate Reaches Veto-Proof Majority on Iran Sanctions. It was posted on January 10th by Rosie Gray.
The "savvy reporter" we alluded to is Ben Armbruster of ThinkProgress, who wrote the piece Democratic Support for Senate Iran Sanctions Bill Tapers Off on January 9th.
From The Hill, here's a piece on Senator Blumenthal's decision to back off of a vote. Blumenthal: No Vote Needed Yet on Iran Sanction Bill.

Here's an edited transcript of Robert Byrd's famous floor speech, Delivered on Wednesday, February 12th, 2003. You can watch the original C-Span footage here.

One of our interviewees, Alan Elsner of J Street, wrote a piece for the Huffington Post opposing the sanctions bill: Proponents of Iran Sanctions Bill Are Playing With Fire. It was posted On December 20th, the day after the bill was announced.
Here's a post about the aftermath, from the MaddowBlog, by Steve Benen: When AIPAC Throws In The Towel.
AIPAC appears to have learned something from this experience: it's now hiring a National Progressives Outreach Constituency Director! Check it out! Or don't.
Win Report sources
Music and Photo Credits

Podington Bear: "Enrichment"

Other original music by Zach Young and Fritz Myers.