Episode #11
Utah? Gay marriage in Utah?
A joy-tacular story about David and Goliath winning the right to marry each other.
The story of Utah's same-sex marriage movement starts with chutzpah and ends with a ridiculously, touchingly exuberant series of victory celebrations. You might get halfway through before you mist up, but don't count on it. Telling the story are Mark Lawrence, the man behind the lawsuit that struck down Utah's vicious anti-equality constitutional amendment, and his friend Troy Williams, an activist who more than earns his unofficial title as "the gay mayor of Salt Lake City." Plus, a delightful non-war with Iran and a win-tastic Win Report guest-hosted by the New Organizing Institute's Bridget Todd.
Originally posted on February 5, 2014
Featuring
Powered by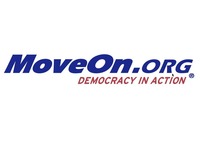 MoveOn.org
8 million progressives fighting for change.
Show Notes
Win Report sources